To achieve efficiency and maximum productivity at the office, everything should be in tip-top shape. Employees, have to be well and not suffer from any ailment so that they can do their tasks properly. The equipment at the office must likewise be in perfect condition. This means that computers, printers, copiers, and even the coffee maker, must be working without any problem. If any of this equipment starts conking out, it could spell a whole lot of trouble in the office. One example is having an old and somewhat rusty copier. So how can such simple office equipment create a huge effect on productivity?
Long Waiting Time
Old copiers could neither print nor copy documents with the same speed that new copiers have. If new copiers can print or copy up to 50 or 70 pages per minute, old copiers could do less than half of that. If you are in a hurry and you need a lot of copies, you have to contend with waiting for several minutes before you could hold the documents in your hands. Think about this, if you need to print 5 copies of court pleadings, with each copy running up to more than 100 pages, can you even fathom how long it would take you to finish everything? Instead of having been able to submit the copies to the required recipients, you spend a lot of time waiting for them to be produced. Now that is already delayed work, which could cause a lot of setbacks within the office.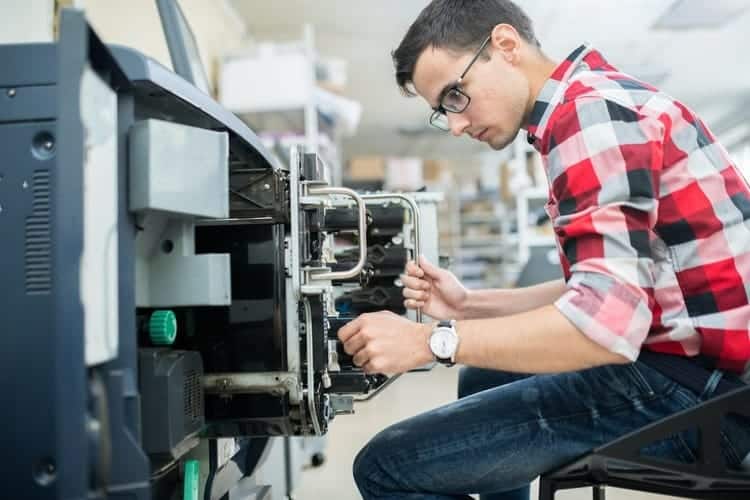 Constant Need for Repairs
Another common problem of old copiers is malfunctioning in the middle of an important office endeavour. It cannot be denied that the older a machine gets, its parts would also encounter some form of breakdown. This could cause a huge deal of delay to employees since a malfunctioning copier would mean an inability to print or copy important documents. Yes, you may still resort to having those documents printed or copied somewhere but the time that this will take could create a toll on employee productivity. Precious time which could be utilised for more worthwhile work would simply be spent going to another location just to print or copy documents. Now that is something that could truly hamper your work.
No Extra Features
If you have heard from a friend how quickly they get to copy documents or print on both sides of the page, and you don't see this functionality in your copier, then it means you are missing out on all the great functions of new copiers. The ability of copiers to print on both sides of the page is known as auto-duplexing and it is one of the most sought-after features of new copy machines.
Time to Upgrade
When you are confronted with these situations, then there is only one solution – upgrade your office copier. You can find a lot of entities today that could offer you either a brand new state-of-the-art copier or one that you could lease for several years. New copiers also bring you a host of functionalities such as auto-duplexing, where you can print on both sides of the paper simultaneously. You could even monitor employee usage right on the copier itself. Also, you can scan, print or even fax, when you have these new copiers.
Office employees need to be productive at work. However, when equipment like the copier, which is vital to their tasks, would have problems, then you can expect that it can greatly affect their productivity. There will be a delay in their output and would even cause them to waste time looking for a place to print or copy documents. Instead of looking for a workaround, which is just a temporary solution, better upgrade to a better copy machine. It can help increase office productivity.
If you plan to get copiers for your office in Santa Maria, you can opt to buy copiers or lease copiers in Santa Maria We can give you the option to get the copier that you want.  You can contact our local copier leasing services department in your location.
If your Location is around Santa Maria, you may call us at (805) 413-5788, and our personnel for copier leasing in Santa Maria will assist you.   If you are also looking for copier repair services in Santa Maria you may contact our copier repair personnel at the same number.